Walk In Bathtubs FAQ in Riverside, Missouri
Do you have questions about purchasing a walk-in bathtub in Riverside or a walk in shower? We get phone calls each day from folks who want to purchase a walk in bathtub in Riverside but just don't know where to start. Because walk in tubs aren't as popular as standard tubs, and because showrooms aren't readily available in Riverside, walk-in tub fact-finding can be overwhelming. The best place to search for walk in bathtub and walk in shower information is online or over the phone. For more information on Independent Home Products, LLC's walk in bathtubs, installed in all of Missouri, simply call (816) 744-8656 or see answers to FAQ below.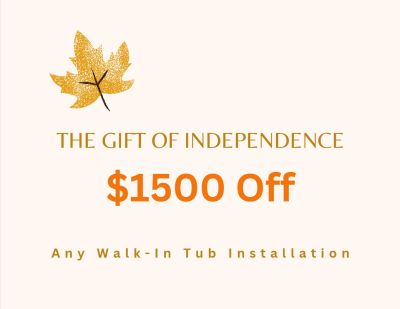 ---
Call for a FREE Quote
---
Frequently Asked Questions (FAQ) about our Custom Walk In Tubs & Showers: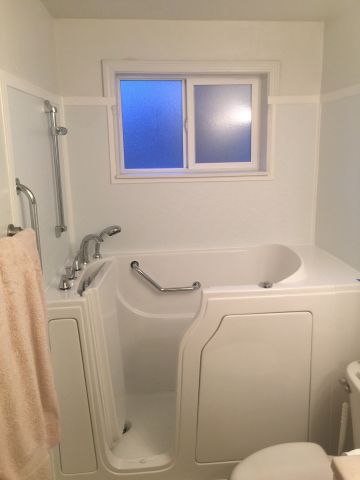 What size walk in bathtub do I need? Unless you require a walk in tub to fit a full-figured person or have a smaller than normal space in which to install a walk in (but don't worry, we have a solution for that, too), you will be able to find an Independent Home Products, LLC walk in bathtub that will fit your space. Our Riverside walk in bathtubs fit into any standard sized tub opening. The most popular choice that we offer is 30" x 52". It is designed to fit a standard bathtub/shower stall. This model comes in standard and wheelchair accessible models, and some of our units are also Hoyer-lift capable.
Do you install larger sized walk in bathtubs in Riverside? Independent Home Products, LLC can accommodate full figured people with our 33" x 44" large walk-in-tub for Riverside residents. It is designed for folks who weigh over 300lbs. With this large sized tub, there is a greater space requirement in your bathroom and you might need to upgrade your hot water tank to accommodate the additional size of the tub.
What if I'm not sure what type of walk in tub I need? Not a problem! Independent Home Products, LLC provides free, in-home consultations for walk in tub installations in Missouri. Call (816) 744-8656 to schedule a convenient time to meet with a Riverside walk in shower and walk in bathtub installer. We'll take a look at your bathroom and get all necessary measurements. You will be shown options for walk in tubs that will work within your existing space.
What is the difference between standard and wheelchair accessible walk in bathtubs? The difference comes down to the door. Our wheelchair accessible walk in tubs have an outward swinging door, which makes transfers from a wheelchair to the bath bench much easier and safer. Keep in mind, more space will be required for this model than for the standard inward swinging door.
What other features are available on your Riverside walk in bathtubs? Independent Home Products, LLC tubs come with a variety of features for function and comfort. Just a few of the available options include:
Heated seat
Whirlpool & air jets
Chromotherapy lighting
LCD control panel
Aromatherapy
Designer faucet set
Low threshold step in
Extendable shower head
Safety grab bars
FM speaker and radio
Why should I choose Independent Home Products, LLC's walk in tubs? There are many reasons why Independent Home Products, LLC installs the best walk-in bathtub installer in Riverside. All of our tubs are factory tested to ensure they are built to last and have an airtight door seal. All of our walk in tubs and showers are manufactured right here in the United States in our Long Island, NY facility, and then delivered to you for installation. What's more, our customers love them! We have 103 ( and counting) customer reviews, with an average rating of 4.7 of 5 stars. Call (816) 744-8656 today and experience our superior customer service, attentive staff and quality Riverside walk in bathtub installation crews.
Independent Home Products, LLC installs superior walk in bathtubs in all of Missouri. Call (816) 744-8656 for a free consultation.
---
Call for FREE Walk In Bathtubs FAQ Quote
Dial Area Code first please.
---
WHAT CUSTOMERS ARE SAYING:
5★★★★★ - "My husband and I are old and we have neuropathy. I also have back problems. I was told that a walk-in tub would help with that. The process with Independent Home went very smoothly. When they installed it, they were here part of the day. I really like the tub. It's a great purchase. They are expensive but I do love my tub. It does take a lot of water which I knew it was going to. I've had a 50-gallon hot water heater and it does empty it to fill it up but that's okay."

Sue, Walk In Bathtubs FAQ

2020-11-12

5★★★★★ - "We found a few models of the walk-in shower and all kinds of the prospectus on them and decided that Independent Home would fit our needs the best, realizing that it is not that much different from many that we had looked at. However, its price was somewhat more reasonable than others had been, even though we felt it was expensive, but it was something that our time and physical abilities in our lives that we needed something that was a more accessible than the step-in tub that we had.
The sales representative came out, looked over the situation and we discussed the aspects of it. We went ahead and did it, and then scheduled an installation date and time. The installation crew came and proceeded to do it. They had a problem that they couldn't solve the first day so they had to come back the second day to actually do the installation. But they did it fairly efficiently, and cleaned up very well and left everything in a nice workable and livable condition without too much disturbance. It was an excellent experience.
The showerhead comes up on its rod just fine for pipes and so forth, but it would be nice if its handle was a little longer so that it came further out from the wall over the tub. When you use the showerhead, it splashes back against the wall and the controls up against the front end of the tub there. It's hard to get under the shower. It doesn't come out far enough. It's partly due to the shower configuration. But we had somewhat of a problem with the splash from the shower over the shelf. It's the back edge of the tub that had to be filled in with a shelf between there and the wall behind it simply because of the configuration of the bathroom.
We get water over on the backside of the tub fixture and the tub installation. And then you have to sop up quite a bit of water back there. We've tried to rig some kind of a shower curtain on the backside as well. I realized that in some installations there's not a problem there, but in ours, there is about a foot wide shelf across between or the side of the tub and the back wall of the bathroom. I'm trying to rig up an additional shower curtain to go on that side of it, so it has a shower curtain on both sides of the tub."

John, Walk in Showers in Grain Valley, MO

2020-10-26

5★★★★★ - "We are very satisfied and happy with our tub from Independent Home. This model works best for me, it fits our space and is comfortable. The guy who came to install it was wonderful, explained everything and cleaned up their mess after doing the job."

Homer in Branson, MO

2016-09-12

5★★★★★ - "I had broken my leg and had to have back surgery. I was thinking that a walk-in tub costs too much for what you get, but I like my Independent Home tub and it has really helped me. I could sit and go to sleep in it, and it's so easy to get in and out of it. The sales representative was a very nice guy and the installation team was very careful about bringing stuff in across the carpet."

JoAnn in Springfield, MO

2016-09-12

5★★★★★ - "My husband called Independent Home and talked to somebody that was helpful. We then got the air jetted tub that is 24 by 40 because it fits our needs. We installed it as my husband's a contractor. Our purchasing experience went very well."

Jennifer in Independence, MO

2016-09-12

5★★★★★ - "They hydro and air jets are exactly what I needed to manage my arthritis. I feel so refreshed after talking a bath."

Peter in Kansas City, MO

2015-05-14

5★★★★★ - "I love my new walk in tub. Delivered and installed as promised and about 20% less than the other quotes I got. Thank you very much!"

Steven in Columbia, MO

2015-05-14

5★★★★★ - "Marc did a great job explaining the product and the installation. He was very patient with us and we would recommend him to anyone looking for a walk in tub."

Betty and Rob in St. Louis, MO

2015-05-14

5★★★★★ - "Thanks for the excellent installation and for turning my bathroom into a walk in spa!"

Peter

2015-04-24

5★★★★★ - "The sales representative wasn't pushy and I love my new walk in tub."

Stephanie

2015-04-24
---
Call for FREE Walk In Bathtubs FAQ Quote
Dial Area Code first please.
---